If you read my article "The Hunt for the Great Horned Owl" you'd recall that my wife the Beautiful AP, my son Mike and I spent three days in Cape May during Christmas trying to locate one of the great apex predators, the Great Horned Owl. I wanted to find this amazing creature so that I could go back to the South Shore Audubon Society (which is on Long Island) and tell the members that not only had we seen this bird but I was now no longer just a birdbrain in the society.
I wanted to strut around like a birding big shot.
Such wasn't to happen. The Great Horned Owl didn't make an appearance.
But yesterday at Hempstead Lake State Park on Long Island, one month after the defeat in Cape May, on our Sunday bird walk with the South Shore Audubon Society we got to see this awesome predator. Olga, a wonderful photographer with a keen eye, spotted one. What's ironic is that the Beautiful AP and I didn't expect to see any birds because the day was foggy and dreary. "Do birds come out in this crummy weather?" I asked. Evidently they do.
The 15 members stood in awe, photographing and exclaiming what a magnificent bird the Great Horned Owl is. The Beautiful AP shot dozens of blurry photographs with her new camera (AP has taken up photography) but one stood out (see below). At one point this usually nocturnal bird let loose and flew over our heads. The Great Horned Owl is large and strong!
So we saw it, watched it for quite a while and then continued on our birding expedition. We saw a variety of birds but the Great Horned Owl was the hit of the day!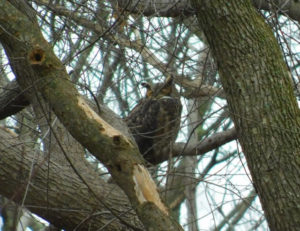 Photo by A.P. Scoblete
[Read Confessions of a Wayward Catholic! On sale at Amazon.com, Kindle, Barnes and Noble, and at bookstores.]