My wife, the Beautiful AP, and I went bird watching recently at the Jamaica Wildlife Refuge in Howard Beach, Queens, New York. This is my favorite place to go for the variety of birds, and for everything else—the marsh, the lakes, the ponds, the bay, the paths, the forest and the magnificent vistas.
You are in beautiful nature yet, through your binoculars off in the distance, you can see the skyline of Manhattan, which is always a spectacular sight. And since this refuge is quite close to Kennedy Airport you get to see hundreds of planes flying into the sky—mankind's successful attempt to mimic the birds of the air.
Having gotten out of a 10-day post-New Year's single-digit deep freeze, it was a relief to escape into 40-degree weather, although along the ocean and wetlands, it was still cold and windy.
We had to sneak into the park; it was closed because of the Federal government's shutdown. We did a two mile walk on the main path; on our left the salt quarter-frozen bay and on the right the completely frozen freshwater lake.
About a hundred feet into the walk we encountered a young female photographer who was sitting on a bench looking at the bay on the opposite side of which is Far Rockaway.
"Any luck?" asked AP.
"Nothing except some flitters that are too fast to photograph,. They zip into the bushes and vanish," she said. "Nothing is standing still today. There just isn't really much to see."
"Well, good luck," I said as we walked on.
When we hit the area that had no bushes or trees on either side of the path, the wind whipped us. "So much ice," said AP, looking over the bay.
"Nothing out there," I said. Just then high overhead a small flock of Canada geese sailed over our heads. "I wouldn't want to be a Canada goose," I said. "Nobody seems to like them."
"Do you like them?" asked AP.
"Not after stepping in their shit all these years," I said.
"Remember the ones that were so aggressive at Hall's Pond? If you didn't give them something to eat, they attacked you."
"Even if you fed them," I said. "They still bit you."
So we kept walking the path, stopping occasionally to look through our binoculars to see if there was anything to see. There wasn't. The Manhattan skyline looked great as did the planes soaring into the air, but that was about it.
"Maybe we will see something in the second half of the walk," said the Beautiful AP. "Maybe the second half will be good."
"The second half of life's been good," I said.
"My first half wasn't so hot," said AP.
Indeed, AP's first 29 years saw her more like a deer caught in a car's headlights on the Garden State Parkway in New Jersey. She titled her parents' marriage "Ozzie and Harriet in the Twilight Zone."
"I was in the Twilight Zone with them," she said. "It was a middle-class suburban family in chaos."
"I had wild ups and downs in my first half of life. I certainly disappointed my father," I said.
"You didn't become a major league baseball player," said AP.
I laughed, "I didn't become the next Joe DiMaggio. I was nowhere near as good as you had to be to become a professional player, even a minor leaguer. So I didn't get the fame he wanted for me. I petered out. And then a bad marriage, divorce and damn it wasn't exactly turning out like It's a Wonderful Life."
"If we hadn't met each other I sometimes wonder if I would ever have left Twilight Zone," she said.
"Without your support I would never have become a well-known writer," I said.
"The second half has been the best," said AP.
"Agreed," I said. "I've always felt bad for the people who look over their early years, say in high school or even in college, and reminisce as if these were the best years of their lives. It is sad that the right now is not their best times."
"I have no nostalgia about those years. I'd never go back," said AP.
"Me too. Just as we wouldn't go back from where we came from on this walk, other than a flock of Canada geese, not a bird in sight, I prefer moving ahead. 'Let the dead past bury its dead,' as someone famous once said."
"So let's move on with the future of this walk," said the Beautiful AP.
Right then a sparrow landed on the path in front of us. Our first non-goose! AP focused her camera but the sparrow scooted into the bushes before she could take a picture. The sparrow was not the last. We took a couple of steps and two unidentifiable black birds zipped over our heads. At least they were birds!
At the tail end of our walk all hell broke loose! Or maybe you could say that the heavens' opened. Suddenly there were a half dozen different birds flying overhead, landing in the denuded trees, walking on the snow on the path searching for water and seeds, and some just stood on the side of the path looking at us. AP took dozens of photos. A couple came over and both the husband and the wife exclaimed, "Look at all the cedar waxwings!"
These birds are small and look like miniature cardinals. They were not skittish and the Beautiful AP got dozens of pictures of them. There were cardinals and robins and sparrows and gulls and, yes, flying overhead and honking like crazy were those Canada Geese. There were some other birds too—I just don't what kind. It was, I kid you not, like being in an aviary.
When we finished, we snuck out of the Refuge and walked  to the car.  AP summed up our lives and this bird walk stating, "The second half was so much better!"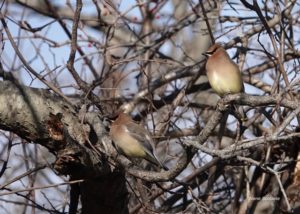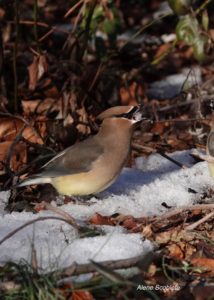 Frank's latest books are Confessions of a Wayward Catholic!; I Am a Dice Controller: Inside the World of Advantage-Play Craps, and I Am a Card Counter: Inside the World of Advantage-Play Blackjack. Available from Amazon.com, Kindle, Barnes and Noble, and at bookstores.